Telephone bots receive and make sales and support calls to complement the work of your customer support team.
With the design of a telephone bot, you can automate most repetitive tasks and queries and filter the most urgent support and customer service requests, allowing your support team to focus on higher priority tasks.
To learn how to use our script creation interface, read this article.
Design a phone script with ChatCompose
The scripts for telephone can be created in the same way as for a text script of a chatbot, with a limitation as to the amount of components that can be used.
Being conversations by voice, you can not use html components, video etc. Instead you need to create a script with the following components:
Message
Options
Transfers (other numbers)
Play Recording (mp3, wav, from url)
Forms
Condition
Reservations
Creating a simple phone script
To begin visit the section Scripts.
Enter an identifier to your script and create an initial greeting message.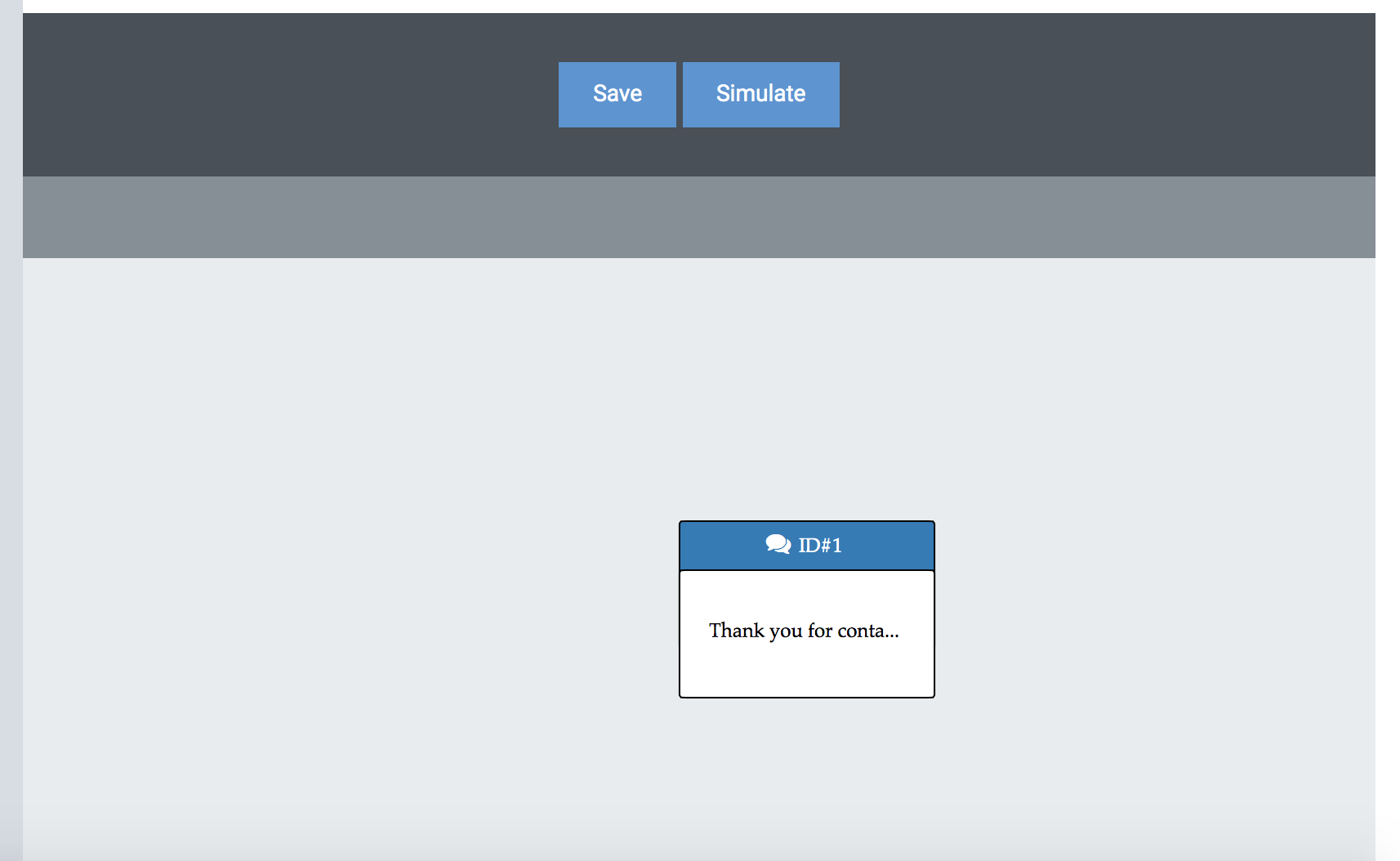 Enter the message: Thank you for contacting our company. How can we help you?
Now continue with an option component and enter two options
I want to know the address of your company
I would like to talk to someone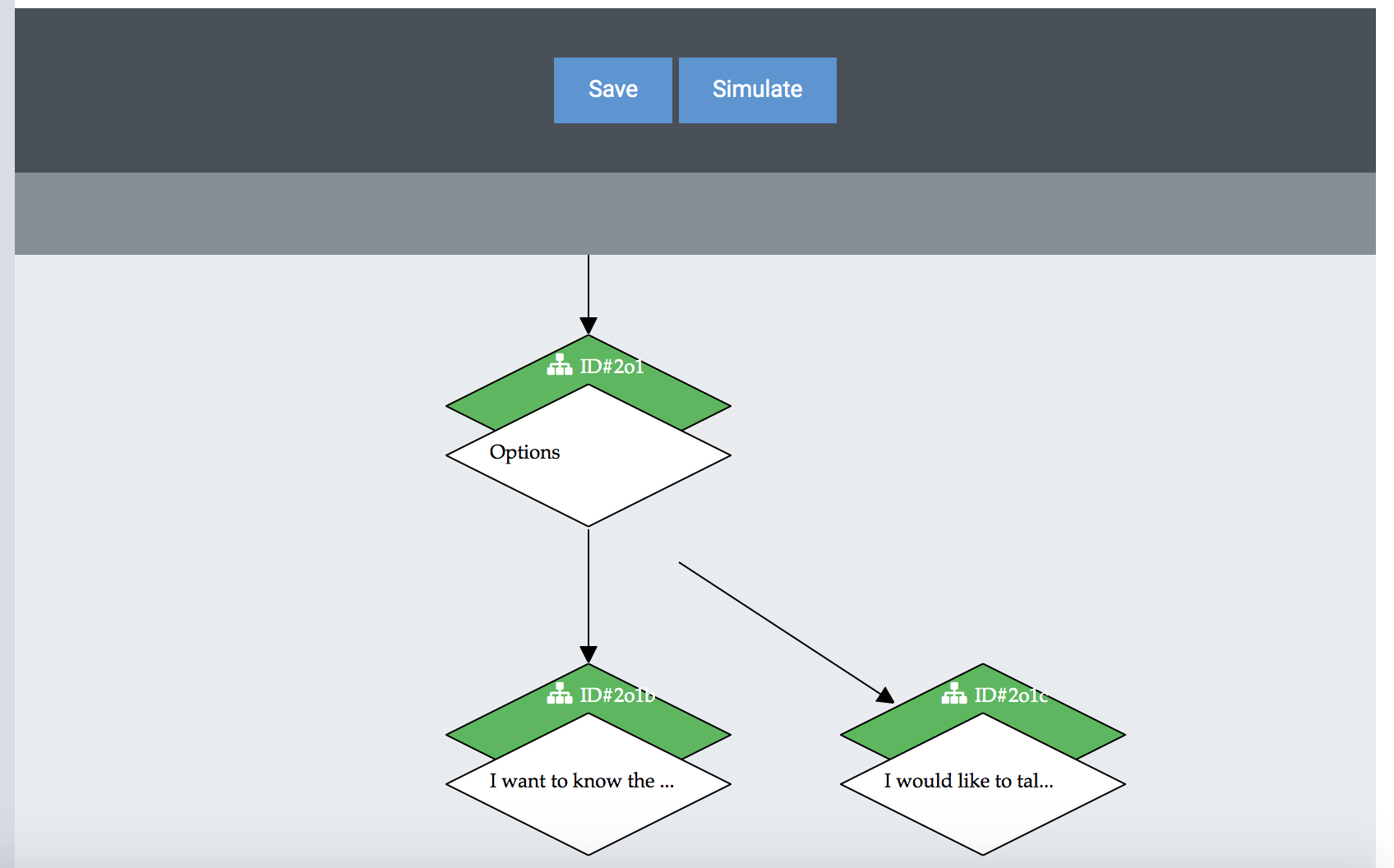 Continue with the option "I want to know the address of your company". Follow the option with a message component and enter the text: "Our company is located on Street 55, number 66."
Now continue in the second option "I would like to talk to someone". Follow that option with a transfer component (telephone) and enter a phone number with the format + (Country Code) (Number).
Save the script to continue.
Test the script
You can test the script in the Telephone Bot section. To test enter in the section PhoneBot (Test), select the id of the script and press "Get Code". A 4-digit code will appear in the window.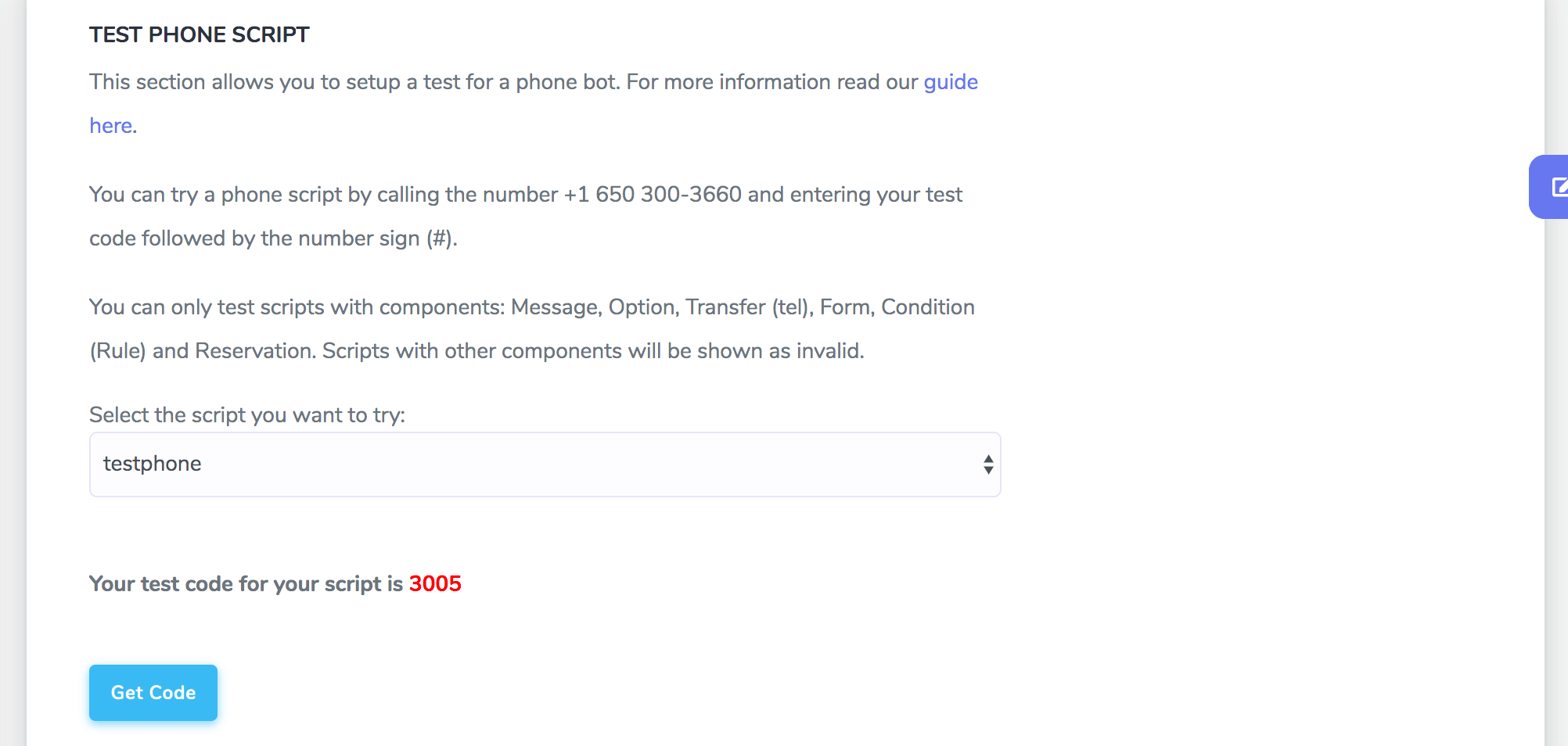 Call the number provided in that section (+1 510 900 8671 or +1 650 300-3660) and enter the code created to test your script.
Advanced features
Our Phonebots use voice recognition to capture voice responses and questions. You can create a script with the Form component to capture leads or the responses of your callers.
You can also use the Condition component to evaluate their responses and the Booking component to book appointments by voice and keypad.
Install a Phone Number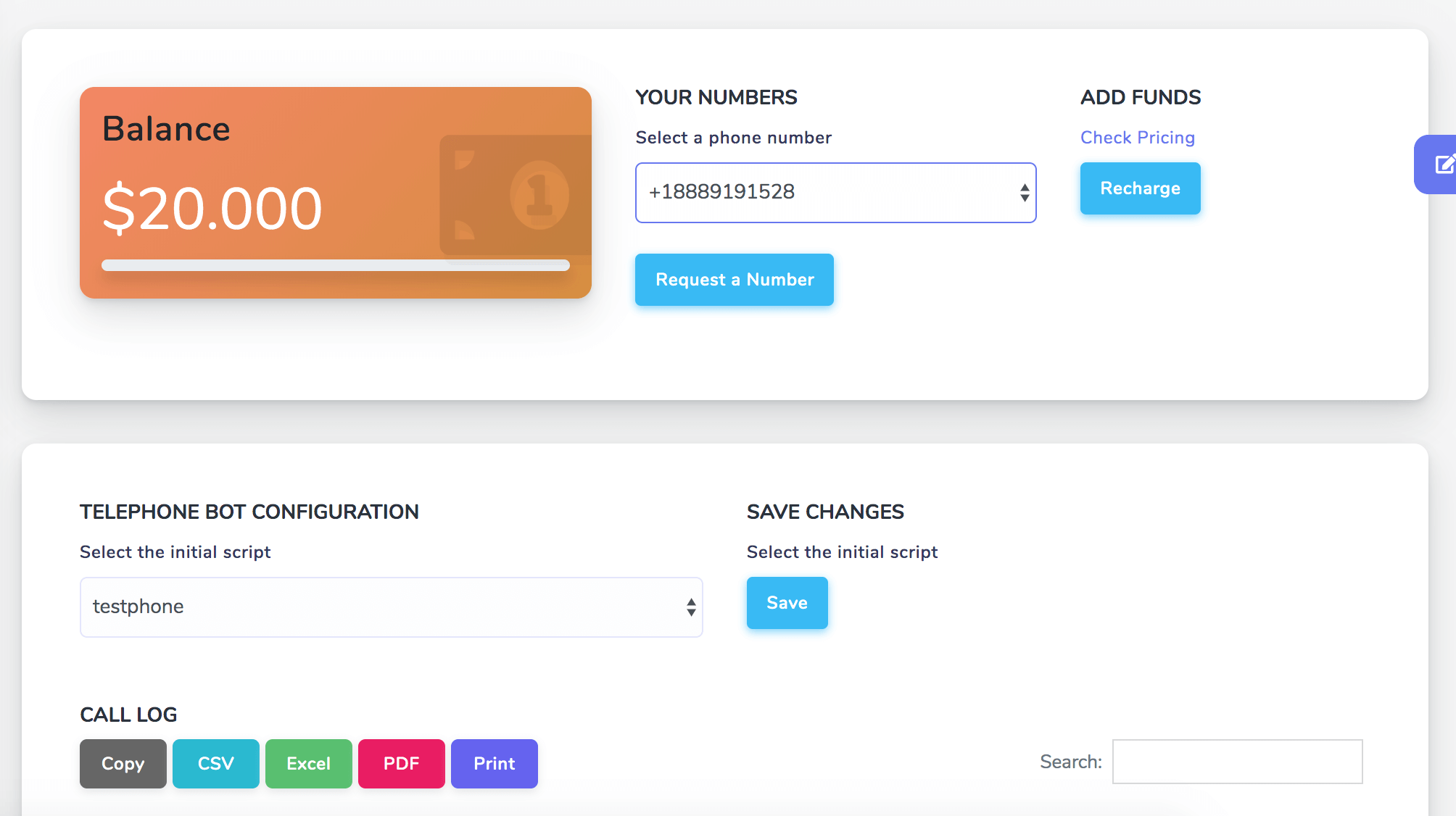 To load your scripts with your own number you need to request a phone number in the PhoneBot>Configuration section.
Once approved you will be able to select your number within the telephone bot section and load a script.
Setup your Phone Number
To setup your PhoneBot to receive calls first select one of your numbers.
A new panel will appear to setup the script you will use to answer your phone and the Log of the calls made to your phone. Select the script, press "Save" and you are ready to go.
The Phonebot will load that script when someone calls your number.
Make Phone Calls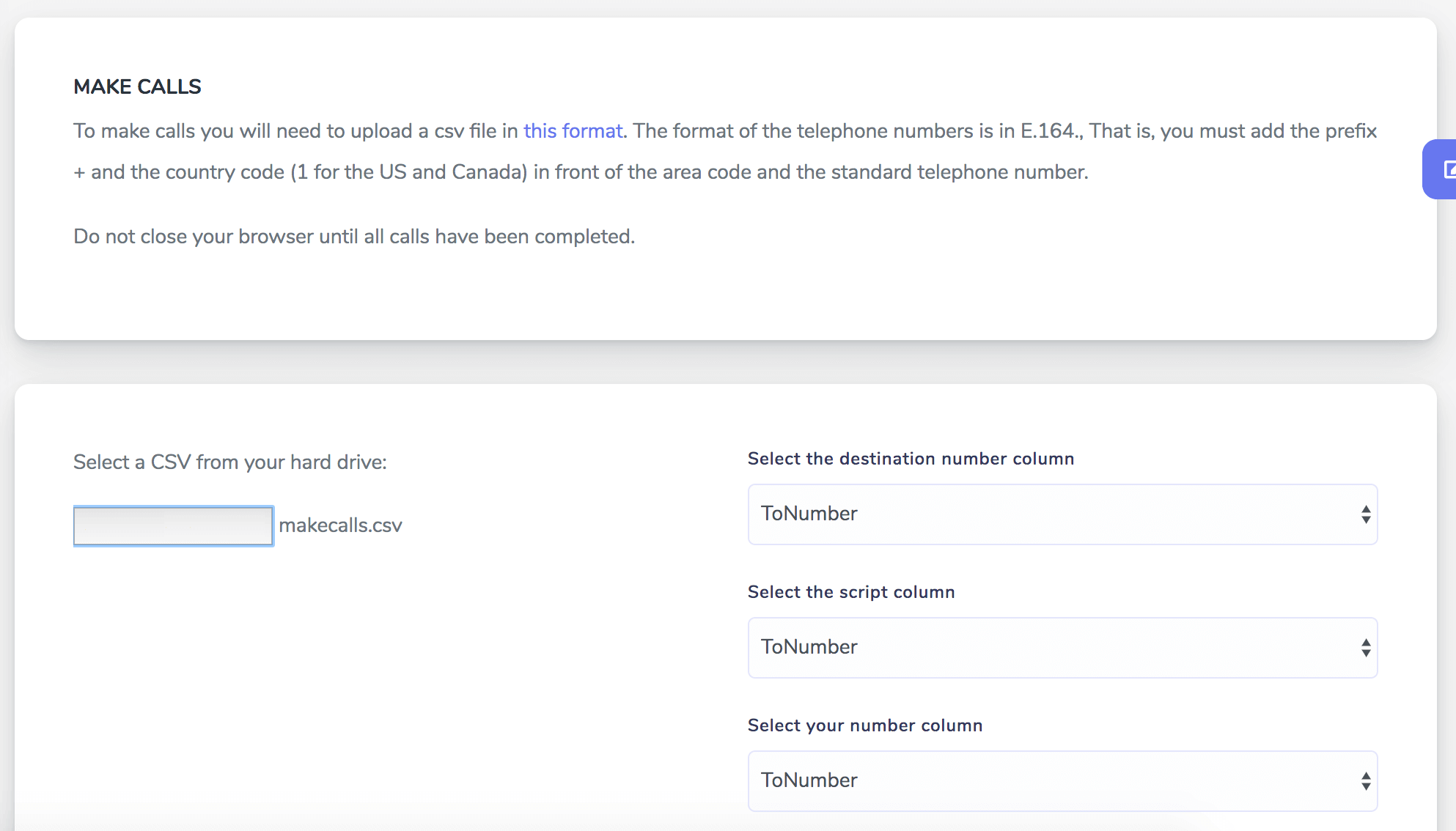 To make Phone Calls you will need to load a file in this format.
You will need to provide a csv with a Destination Number (E.164), the name of the script you want to run, and the Phone number you want to make the call from (one of your numbers in E.164 format).
Wait until all the calls are loaded in the queue before exiting the page.
Make Phone Calls With our API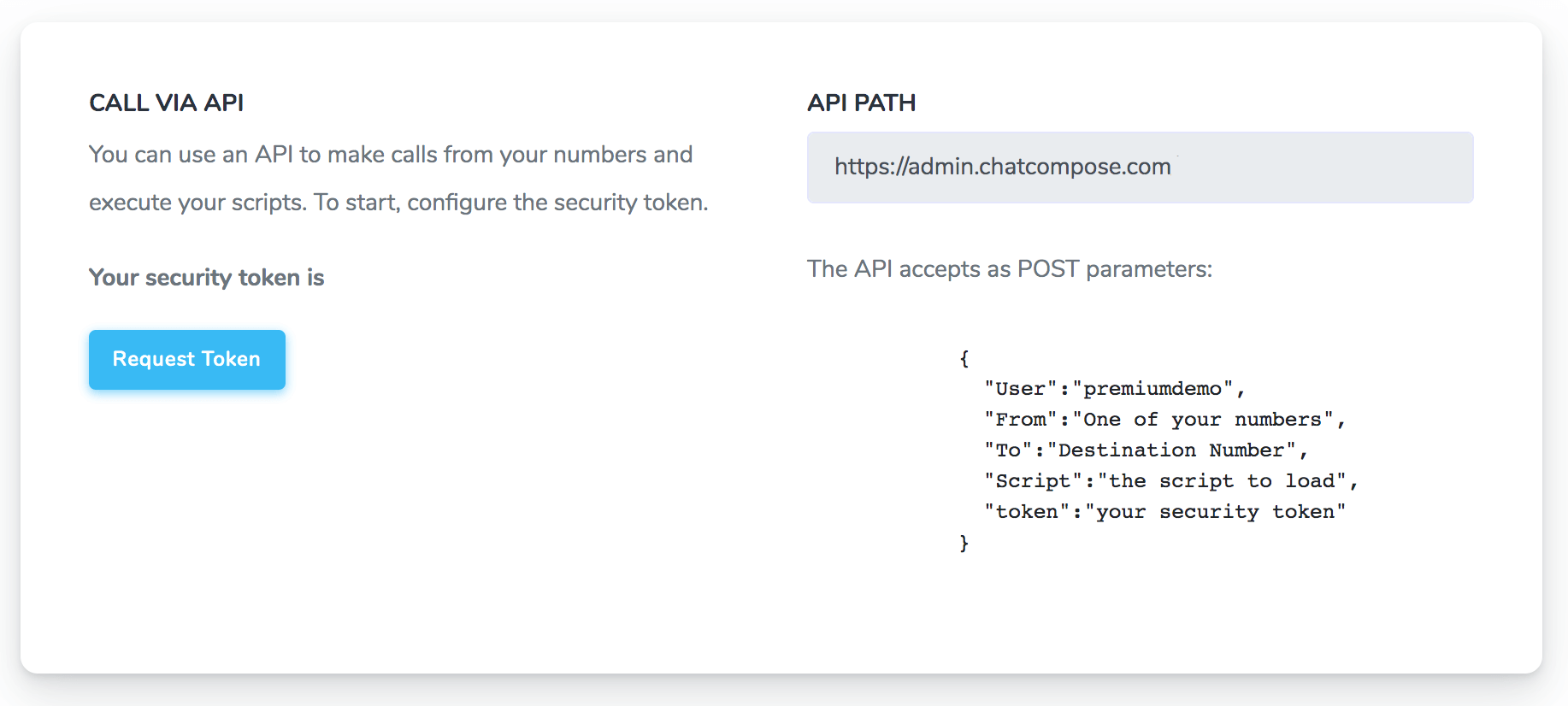 You can also make Phone calls by using our API endpoint.
First you need to generate a security token to verify your identity. After you have generated it you will be able to make Phone Calls by calling our API endpoint with POST parameters.